ERIK VINCENT HUEY RELEASES HIS DEBUT ALBUM APPALACHIAN GOTHIC
January 20, 2023: Erik Vincent Huey releases his debut, Appalachian Gothic, today through the Orchard/CEN and his own Appalachian AF Records. The album was recorded at Cowboy Technical Studios in Greenpoint, Brooklyn and produced by Eric "Roscoe" Ambel, the legendary Rock 'n' Roll guitarist (Joan Jett, Del-Lords, Steve Earle & The Dukes) and producer (Bottle Rockets, Jimbo Mathus, Yayhoos, Sarah Borges). Erik (aka Cletus McCoy) is the frontman of The Surreal McCoys, a Cowpunk Americana band that — boosted by airplay of its single "Whole Lotta Folsom" on SiriusXM's Outlaw Country and other outlets — cracked the Top 50 on the Americana Album Charts and currently enjoys over 45K monthly listeners on Spotify, where it is north of 2 million spins.
Huey grew up in West Virginia in the heart of coal country. His father, grandfather and great grandfather (who came over from Ireland) were all coal miners in the Monongahela Valley, Appalachian Gothic finds Huey taking a nostalgic deep dive into the Appalachia of his WV youth while wrestling with the contemporary realities of a hardscrabble region that's been left behind in many ways. While the album explores darker themes and raw subject matter such as the legacy of coal mining and the ravages of the opioid crisis on songs like "The Devil is Here in These Hills," "Dear Dad," "The Appalachian Blues," and "The Battle of Uniontown," it also taps into a defiant streak of optimism on twangy upbeat rockers like "Winona" and the pro-union anthem "Yours in the Struggle" about which SiriusXM Outlaw Country's Mojo Nixon states, "Erik and Roscoe subvert 'Take Me Home, Country Roads' into a union organizing song! Genius!!"
Along with DC area CD release shows, Erik will be touring with Jared Dickenson and Chris Kasper in April and May; dates will be announced soon.
CD RELEASE SHOWS
SUN, JAN 29 Baltimore, MD – Club 66
FRI, FEB 10 Washington, DC – Pearl Street Warehouse
SAT, FEB 11 Alexandria, VA – Crooked Beat Records
(afternoon in-store )
Check out the official video for "YOU CAN'T DRINK ALL DAY"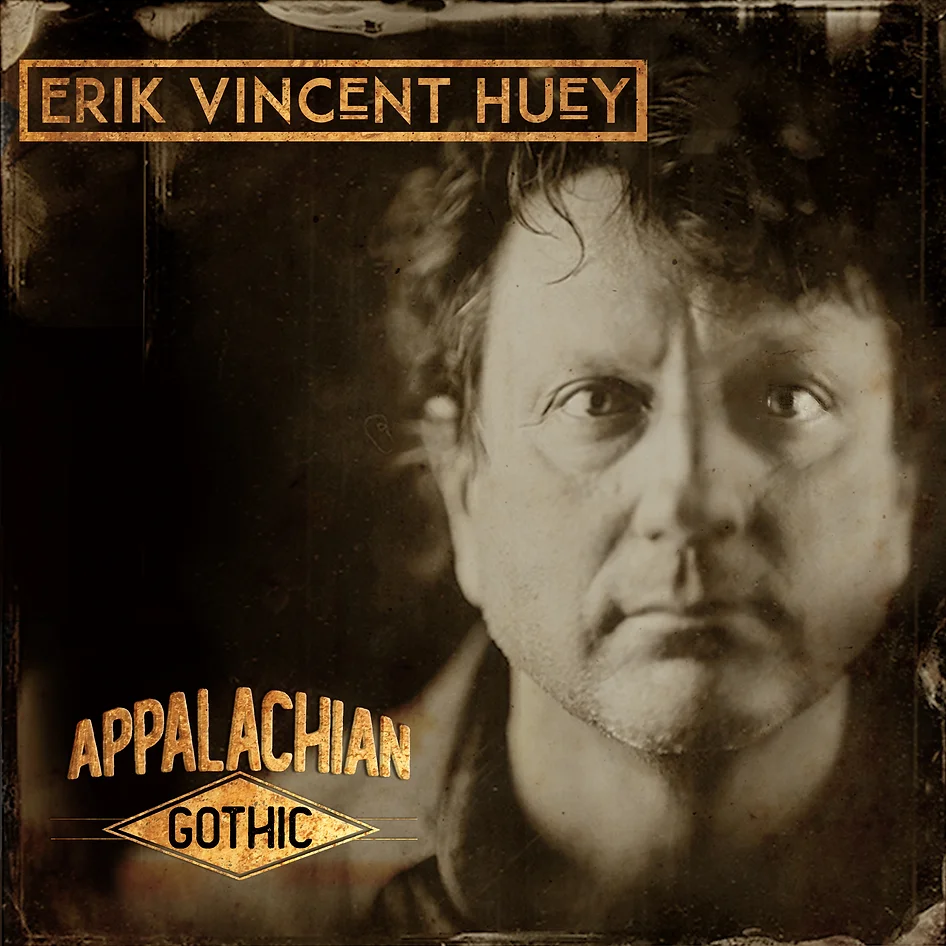 ---
RECENT PRESS:
American Songwriter: Review — Erik Vincent Huey Takes an Unflinching Look at West Virginia's Forgotten People in 'Appalachian Gothic'
"Letting his vocals complement the twang of pedal steel and the barroom piano, the song is almost a meta take on the country music lifestyle… a fun honky tonk anthem" —GLIDE ("Drink All Day" premiere)
"Genius!" —Mojo Nixon, SiriusXM Outlaw Country
"Nicely done, a rousing song by Erik Huey and a harbinger of more quality music to come on his forthcoming album" —AMERICANA HIGHWAYS
"An anthem of Guthrie-sequel proportions… 'Appalachian Gothic' is an album that stands alongside the best of those documenting the fates of those caught up in the social and economic fallout of post-industrial America." —FOLK AND TUMBLE (UK)
"you may well find yourself singing this for days after you've heard it… Hopefully, this is just the start for an artist who, on this album, shows he has the skill to craft good songs across a range of country styles" —AMERICANA UK
---
FOLLOW: